We are Funky Fly Project
The Funky Fly Project is a funk and jazz collective operating out of Pittsburgh, PA consisting of Winston Bell, Henry Schultz, Brandon Terry, and Eric Dowdell Jr. A powerful combination of skill and virtuosic playing, you would never know by listening that each member of the project is less than twenty-two years old. Developing a sound well beyond their age, the quartet fuse classic jazz styles with contemporary funk to create a unique sound that leaves listeners in awe. 
 The Funky Fly Project flaunts the soloistic skills of the players while showcasing the group's inspiring ability to write original compositions with unmatched style and grace. Pulling together an arsenal of different styles and techniques, each track is laden with the fresh excitement of youth and expertise making the group unique in today's pop scene. Each player gains inspiration from a number of different influences and their combined sound has been described as "spectacular", "inspirational" and the "future of jazz". 
 Soaring solos, upbeat rhythms and impressive jam structures are the hallmark of this burgeoning band from Pittsburgh, PA. Loaded to the brim with impressive structure and style, this urban quartet is unlike any jazz project you have witnessed before. The Funky Fly Project plays alongside seasoned musicians; what they lack in age, they make up for in energy and unmatched talent. 
 The complex sound of the Funky Fly Project is made up of four equal yet distinguishing parts, Winston Bell on saxophone, Henry Schultz on keys, Brandon Terry on drums, and Eric Dowdell Jr on bass guitar. Each member of the project shines with complex chord changes, difficult rhythms and jaw-dropping solos while harnessing the finesse of veteran jazz legends. A band to watch in coming months and years, it's easy to imagine where the bands combined talent may take this group --- whether it's the main stage at jazz festivals or spotlight performances in gallery crawls and clubs --- the Funky Fly Project will perform as many nights as their school work will allow. 
For the latest information and news about the Funky Fly Project, join our mailing list.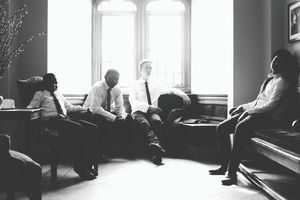 Meet the Band
Winston Bell is nineteen years old and began playing bass at the age of six while attending Pittsburgh Public School, Dilworth Traditional Academy. During the summer of 2011, Winston attended the Duquesne University Music Jumpstart Program where he began playing the alto saxophone. As the spring of 2013 approached, Winston's knowledge and technique had grown well beyond his young age. His robust and soulful tone play tribute to the jazz greats of John Coltrane, Wayne Shorter and Maceo Parker while cultivating his own, unique sound. Winston is currently attending Duquesne University and CCAC. 
Nineteen year old pianist and multi-instrumentalist, Henry Schultz has been immersing himself in the Pittsburgh music scene since the age of 11. He has been active with the Funky Fly Project, and in the past, with the Hatco Theatre Company through the Hope Academy. At the age of 13, Henry composed the music and was also a performer with cello and xylophone in the Hatco Theater production of "This Girl". The following year, his original composition "Exits and Entrances" was the soundscape for the original Hatco production of "Wild Woman Don't get the Blues". He has performed in some capacity on four WYEP Reimagination CD project's in 2014, 2016 (2 tracks) and 2017. He has recorded "Christmas Catastrophe" with Pittsburgh's Yellow Couch Studio in 2016, which was featured on Pittsburgh's "Today Live". In addition to being a member of the Funky Fly Project, Henry spends much of his free time composing, producing and experimenting with his own personal music projects. His first solo album "Henry, Save it for a Rainy Day" can be heard on all streaming platforms and at Henrymusic.org. He is currently a sophomore at Duquesne University. 
Multi-instrumentalist Eric Dowdell Jr. is 22 years old and the bassist for the Funky Fly Project. Eric showed an interest in music at a young age growing up in a musical environment. His father, bassist Eric Dowdell Sr. and his Uncle, drummer "Timmy Wills" acted as major musical influences in his life. His first passion was for drums and he still enjoys playing when he gets a free moment. His love for the bass was born on his 13th birthday, when his aunt bought him his first bass guitar. His first public performance song was "maiden voyage" with a well known Pittsburgh jazz band called "Southern Comfort". Eric received a scholarship to participate in the Duquesne University Jazz Workshop in 2017 and was a member of the AAMI (Afro American Music Institute) Jazz ensemble until he graduated at the age of 18.
Brandon Terry has long since developed a reputation as a gifted young drummer throughout the Pittsburgh area. Only sixteen years old, he has already accompanied national jazz saxophonist Jeff Kashiwa as well as received first runner up in the 2012 Western PA Blues Society Competition. Though a versatile performer, Brandon excels within the jazz, funk, fusion, gospel and bebop genres. This versatility and originality is the reason he was given the nickname of "Lil' Blakey" by band coach and grammy award winning drummer, Poogie Bell. In addition to the Funky Fly Project, Brandon plays in a number of Pittsburgh groups like the Urban Impact Jazz Ensemble and the Pittsburgh Children's Choir. 
Thank you to Dave and Robin DeNoma for the beautiful photography!